Skip to Content
Get to Know Us
Cosmetic surgery and non-surgical cosmetic procedures each require an approach that blends art and science to create beautiful results fitting for each individual patient. At Flourish Surgical Arts, we provide patients with a tailored approach to their aesthetic care, specializing in a number of the most popular surgical and minimally-invasive treatments in the Denver area. We welcome you to read a little more about our practice here, so you can feel comfortable and confident in your decision to schedule a consultation with us.
Why Choose Us
We have designed our office to provide relaxed, luxurious surroundings while outfitting our treatment rooms and surgical suites with state-of-the-art technology. In our facilities, you will meet with our surgeon, Dr. Nesiba, who will provide exceptional care for any procedure you choose, from facelifts to breast augmentation to Brazilian butt lifts. Dr. Nesiba is a Fellowship Training and Expertise surgeon with more than nine years of post-graduate training to ensure patient safety and naturally beautiful results from each procedure.
We strive to meet the highest standards of medical care and will work to ensure you feel comfortable in our office and informed about the procedures you are interested in. Patient education is essential for setting expectations for cosmetic surgery and understanding how to best care for yourself throughout the recovery process, so we will not rush through your consultation time. Instead, we will work closely with you to select the right surgical procedures and frame them with clear, realistic expectations so you know exactly what you can look forward to with your results.
Dr. Nesiba offers state-of-the-art treatments such as PRP, Vaser-assisted Liposuction, and Renuvion skin tightening to provide customized treatments to every patient. Dr. Nesiba also provides liposculpture services for Elite Body Sculpture, a cutting-edge brand that provides custom care for patients utilizing no needles, scalpels, or stitches at their Denver facility. He performs more than 100 surgeries per year utilizing these techniques.

Graphic Provided By: American Board of Cosmetic Surgery
Key Services
At Flourish Surgical Arts, we specialize in many different cosmetic surgeries to address a wide range of patient needs in the Denver area. We are best known for:
Breast augmentations and breast reductions.
Facelifts.
Non-surgical facial rejuvenation, including Botox and dermal fillers.
Surgical body contouring, including Brazilian butt lifts, tummy tucks, and body lifts.
Non-surgical body contouring.
During each procedure, we use an artful approach to enhance your existing features and accentuate your natural beauty, rather than trying to make you look like someone else.
GETTING STARTED
To schedule a consultation with Flourish Surgical Arts, your first step should be to give us a call at 720-765-7214. During your first consultation, you will meet with the surgeon and our office staff to discuss your concerns and the surgical procedures you're interested in. This first visit is primarily educational and informative, and will help you make your cosmetic surgery decisions with confidence.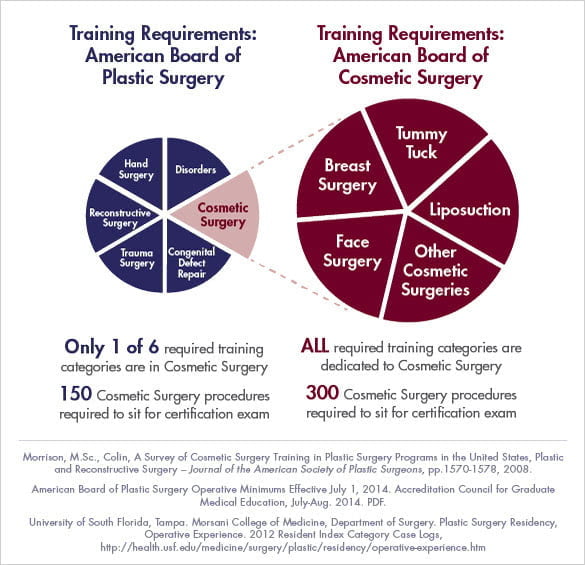 Graphic Provided By: American Board of Cosmetic Surgery
Request Your Consultation Today!